Unforgettable Art Supply Moment No. 1: Paul Rogers
January 4th 2012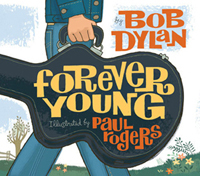 "My Most Unforgettable Art Supply Moment" is a series of short interviews with seasoned artists who have survived substantial combat in the great war of the graphic arts. Each participant was asked the same five questions.

Illustrator Paul Rogers has long been celebrated for his poster art for events such as the NFL Super Bowl, the Playboy Jazz Festival, the New Orleans Jazz and Heritage Festival, and the Seattle International Film Festival. He is most recently known for his collaborations with Bob Dylan on Dylan's children's book Forever Young
, as well as with Wynton Marsalis on the book Jazz ABZ
. His award-winning art has been commissioned by Pixar Animation Studios, Warner Bros., NIKE, The New York Times and The New Yorker, to name a few. A native Californian, he resides in Pasadena with his wife, book designer Jill von Hartmann, and is a faculty member at Art Center College of Design. More about Paul and his work at www.paulrogersstudio.com
1. Can you recall for us your worst most unforgettable art supply experience?

Not exactly an art supply experience, but one story stands out from the days before it was possible to e-mail digital files to clients. There was always that last-minute rush to wrap up a painting and get it to Fed-Ex before 5:45 on the West Coast for overnight delivery.
My studio was in the same building as my good friend Kenton Nelson. About 5:30, he came down the hall with a look of dread on his face and a finished airbrushed painting in his hands. He had dropped a cassette tape on it, and the corner of the plastic case had gouged a dent in the painting that was going to be impossible to touch up.

So here's what we did: We used a screwdriver to gouge a hole in the FedEx box about where it would line up with the painting, wrapped it up, and sent it off. The next day, Kenton called the art director to see how he liked the illustration, and he said, "I love it, but the goddamned FedEx guy must have gouged the package with a screwdriver and it went through to your painting. Don't worry about it though, we'll retouch it on the separations."

2. Other than your first answer, is there an art supply that you've hated having to use more than any other?

When I started as an illustrator in 1980, everyone was using an airbrush. Learning how to use that thing took a lot of patience, and although I liked the way the finished pieces looked, it was a crazy way to work. You had to plan everything out from the start and cut all those friskets. Then the airbrush would clog at the worst times. Making changes was a nightmare. I don't miss that.

3. On the other hand, can you think of an especially favorite art supply that you miss the most that has unfortunately left us for that big art supply heaven in the sky?

I still use a ruling pen occasionally for some hand-done images that require a clean opaque line. That was one tool that was a really hard to master, and I'm sure that no art student today has ever tried to use one.

4. Are there any other art supplies that you've just plain thrown away that you wish you still had?

My proportion wheel!

5. At one time or another, a lot of us have purchased something that we thought was soooo cool when we saw it at the art supply store, then we ended up never ever using it. Has this ever happened to you?

I remember ordering this chemical from a company in Santa Barbara that you could put on illustration board. When you put a film negative over it and exposed it to the sun, a non-photo blue image would appear on the board. Then you could paint the colors that you wanted, and everything would be perfectly registered to the film-pos that went on top. That was back in the days when we all were trying to get a really clean black line on our color work.