A Message from Founder and Curator Lou Brooks, As.D.:


Welcome, artists and aficionados alike, to the home of The Museum of Forgotten Art Supplies, where tools of the trade that have died or have just about died a slow death are cheerfully exhibited — as well as those that perhaps don't get invited to lunch as much as they used to!

The Museum now features more fun than you deserve, and shows over 700 images of art supply artifacts, all contributed by visitors like you! As always, your comments are appreciated and most welcome.


Note: Recently, there have been reports that some of you have been looking for the Museum – wandering far from your homes, often running out of gas and having to spend the night sleeping in your car. The Museum is NOT a real place with Doric marble columns and a Museum guard named "Pop" with a rusty gun. It's only a dream Lou's having, and he's very happy that you're all in it!


We welcome you to submit images of any ghosts of graphic arts past for our consideration. Click here or hit the submit button below, but please take a look to be sure you're NOT sending a duplicate of something already exhibited. Any interesting packaging or literature is still cool.

So, c'mon in and stay awhile... the coffee's always hot and the waxer's always on!


- Lou Brooks, Doctor of Art Supplies


____________________


"A delightful place..." — boingboing.net


"If you visit, be prepared to lose HOURS there." — Ephemeraology.com


"A lot of fun and more than a few laughs to go through the over 600 items currently in the museum!" — Tom Richmond's MAD Blog


"Lou Brooks, Doctor of Art Supplies, has re-opened the doors of the Museum of Forgotten Art Supplies. A better, newer, collection of recent commercial art history." — Chuck Green at pageplane.com


"Where have all the Acu-arcs, xactos and stat cams gone? To the Museum of Forgotten Art Supplies, of course!" — adbroad.net


"...a site that just made me laugh out loud." — Larry Marder's Beanworld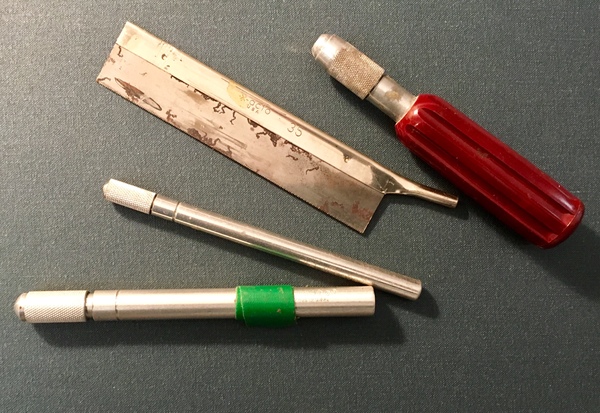 Latest Artifact no. 761 and counting!