Unforgettable Art Supply Moment No. 7 - Mary Zisk
January 13th 2012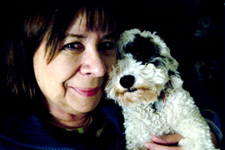 "My Most Unforgettable Art Supply Moment" is a series of short interviews with seasoned artists who have survived substantial combat in the great war of the graphic arts. Each participant was asked the same five questions.

Mary Zisk is art director at Strategic Finance magazine. In her own words, "I've been the art director for such defunct magazines as Quest '78, Science Digest, PC Magazine and Art&Antiques. I hope my jinx doesn't affect my current job at Strategic Finance. She adds that she's won many awards "only because I've hired mega-talented illustrators who make me look good." Learn a lot more about Mary and her work at www.maryzisk.com.
1. Can you recall for us your worst most unforgettable art supply experience?

I had just started my first job at Scholastic Magazines, fresh from Ohio University. The OU graphic design department prepared us for creative ideas, but not mechanical skills. Our only piece of equipment was a lucigraph that wailed like a cat. At work, my boss asked me to cut an amberlith for a mechanical. I had never seen the stuff, but I cheerfully cut away. I did an excellent job of cutting right through the film AND the acetate. It was less of a disaster and more the humiliation of a novice. Ultimately, I grew to enjoy the way a knife slipped through the amber film.

2. Other than your first answer, is there an art supply that you've hated having to use more than any other?

I never liked using a ruling pen to render type, but that's because of my incompetence, and not the fault of the pen. Although, I was happy when rapidiographs appeared.

3. On the other hand, can you think of an especially favorite art supply that you miss the most that has unfortunately left us for that big art supply heaven in the sky?

This is actually a kind of gross art supply—the rubber cement pickup. I loved it's squishy texture, and the squeaks it made as it did its job. But then rubber cement would accumulate around the edges like black boogers.

Also, I loved Lettraset. For doing projects in college, a sheet of Lettraset was like gold because it was so expensive ($1.00/sheet). So when I got to my first job, and saw stacks and stacks of typeface boxes, I was in heaven. The choices were unlimited. I thrilled at using the silver ball end of a burnisher and then doing the second burnish using the white flat plastic end, with that baby blue non-stick sheet protecting the type. I loved the challenge of creating a missing letter using pieces of other letters and an Xacto knife. That said, once you use Mac, you never go back.

4. Are there any other art supplies that you've just plain thrown away that you wish you still had?

I don't throw much away. I thought for sure I'd find a rubber cement pickup, but no. Anyone want a hand waxer?

5. At one time or another, a lot of us have purchased something that we thought was soooo cool when we saw it at the art supply store, then we ended up never ever using it. Has this ever happened to you?

I bought a hand mat cutter that cuts at an angle to make a bevel. But it terrified me. I had flashbacks to when I cut off a sliver of my finger tip when cutting a mat. The price tag is still on the cutter.