Unforgettable Art Supply Moment No. 4 - Overton Loyd
January 7th 2012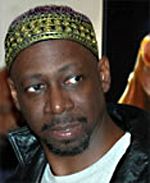 "My Most Unforgettable Art Supply Moment" is a series of short interviews with seasoned artists who have survived substantial combat in the great war of the graphic arts. Each participant was asked the same five questions.

Known as the "Art Philanthropist," Detroit-born Overton Loyd has toured throughout the US and abroad with George Clinton's renowned and influential funk/rock band Parliament-Funkadelic, designing multi-media stage shows, costumes, album covers, websites, and animated videos. He won Billboard Magazine's "Best Use of Computer Graphics" award for the ground-breaking music video Atomic Dog.

He was the featured caricaturist for the popular television show Win Lose or Draw, and has been guest art director for two episodes of Class of 3000 on Cartoon Network. His fine art resides in private collections worldwide. See a lot more about Overton at http://overtonloyd.com/.
1. Can you recall for us your worst most unforgettable art supply experience?

In the late 70's (long before the word "download" was dreamed up) I was nervously rushing to ship a finished illustration that I had pristinely produced on an 18 x 24-inch sheet of hot pressed illustration board. I'd been late delivering jobs before, but this time I was so late that Hustler Magazine was willing to fly me from New York to Ohio to deliver the tardy artwork personally. But now it seemed as if I might miss my flight if I didn't hurry-da-funk-up and package the darn thing.

So, I whipped out an X-acto knife, a straight-edge ruler, and a slab of foamboard backing. Imagine my disbelief upon discovering the slits in my left index finger and thumb oozing the red stuff -- I damn near sliced clean through my fingers! I was in such intense pain and panic that my instincts took over: I wrapped some rags around my fingers, finished packing in two minutes flat, grabbed my suitcases along with the art, and sprang out into the streets of New York, pleading with a cab driver to rush me to the nearest clinic "PRONTO, 'CAUSE I GOTTA CATCH A PLANE!!" Strangely the nurse said it didn't need stitching, so she just wrapped me up a little neater and sent me on my way.

I made the flight, and once I got to Ohio, I actually ended up in an elevator standing next to Larry Flynt. I showed him the art along with my war wounds, and quickly won his sympathy. I suppose that's as close as I ever got to having a doctor's excuse for blowing a deadline.

2. Other than your first answer, is there an art supply that you've hated having to use more than any other?

X-acto knives are still the scariest devices, but the Lucigraph garners second place. I kept my gigantic DB300 Art-O-Graph Projector up until about a decade ago. I suppose it was actually pretty high-tech for it's day. It loomed over my drawing table at all times, but it was so cumbersome to load art into and set up, that I ended up really resenting it. By the time I finally submitted to the digital age, I couldn't even give that thing away, so I just left it behind when I moved into a new loft.

3. On the other hand, can you think of an especially favorite art supply that you miss the most that has unfortunately left us for that big art supply heaven in the sky?

Yeah, I was one of those old-school Amiga computer heads. I still have it somewhere, but I think I threw away some components that might allow me to retrieve precious artwork from its ancient hard drive.

4. Are there any other art supplies that you've just plain thrown away that you wish you still had?

I don't know if you can consider these art supplies, but I wish I'd kept my vintage "COLORFORMS," fer cryin' out loud!!

5. At one time or another, a lot of us have purchased something that we thought was soooo cool when we saw it at the art supply store, then we ended up never ever using it. Has this ever happened to you?

For me that would be one o' those high-falootin' mat cutters. I still think they're pretty cool, I just never learned how to use 'em.