Unforgettable Art Supply Moments
Unforgettable Art Supply Moment No. 10 - Clare Vanacore
January 25th 2012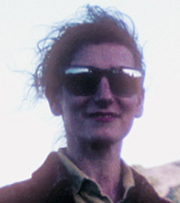 "My Most Unforgettable Art Supply Moment" is a series of short interviews with seasoned artists who have survived substantial combat in the great war of the graphic arts. Each participant was asked the same five questions.

When an injury abruptly ended her ballet career with New York City Opera at Lincoln Center, Clare Vanacore turned her creative attention toward the visual arts, enrolling in The Pennsylvania Academy of the Fine Arts in Philadelphia. Since then, her technological and industrial landscapes have been seen in such publications as Time Magazine, and have been featured in several published collected works, including Outstanding American Artists Today, published in Japan by Graphic-Sha. She currently resides in Northern California.
1. Can you recall for us your worst most unforgettable art supply experience?

Nothing awful has ever happened to me directly as a result of art supplies, although I guess a portfolio would be considered an art supply. One day, I was delivering my portfolio to a client in Manhattan. I was wearing a new wide-brimmed suede hat that I had paid way way too much for, and a pigeon shit on my head. I didn't see him, but felt the "plop" before this white stuff started dripping from the brim. First I was horrified. Then I was pissed. By the time I got to the client, I was laughing out loud.

2. Other than your first answer, is there an art supply that you've hated having to use more than any other?

The Wacom tablet. Supposedly, it can be set to feel like your favorite pencil, pen or brush. But it just doesn't work for me. It's wonderful for retouching in Photoshop, but as far as drawing, I need to feel the magic of pencil to paper. I just scan it into the computer afterwards.

3. On the other hand, can you think of an especially favorite art supply that you miss the most that has unfortunately left us for that big art supply heaven in the sky?

Most of the time, I've used my Canon AE-1 camera as my sketch pad, but there's a lot less slide film around than there used to be.

4. Are there any other art supplies that you've just plain thrown away that you wish you still had?

I've never thrown any art supplies away. I may not be able to lay my hands on them, but I've never thrown any away.

5. At one time or another, a lot of us have purchased something that we thought was soooo cool when we saw it at the art supply store, then we ended up never ever using it. Has this ever happened to you?

Packages of oragami paper. Typical exquisite Japanese packaging! To open them… what, and destroy that beautifully designed block of fanned-out papers?